If you are looking with regard to applications to know the discussions of your children (or few) you can do it with the spy whatsapp (espiar whatsapp) application. This is an application that will allow you to hack whatsapp (hackear whatsapp) swiftly, easily and safely.
If you suspect that your kid may be experiencing some kind of nuisance or your companion is cheating on you with another person, here is the ideal program for you.
Using this application you will see each of the discussions, photos, video clips and mp3 fies you have in your child or even partner on your own mobile device and finest of all, secretly, that is, state that neither the individual hacked nor WhatsApp You can identify that you keep track of your discussions. This is because the actual App was made to be undetectable.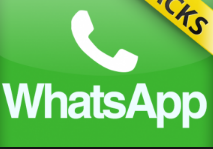 This application is designed to end up being really easy to use, so you can spy interactions very easily. The one thing that the person needs to perform is to possess the number of the actual contact that you would like to hack whatsapp (hackear whatsapp) in order to introduce that in the coughing website.
The only thing that the person must do would be to enter in depth the prefix of the united states that the particular person uses in the WhatsApp account after which he just has to enter the whole number of the smartphone, then he must click on the hack button and the digital platform will begin to do his job.
It should be mentioned that this method is really quickly, where you just have maximum 15 seconds to perform the actual tracking, this particular tracking time is linked to the amount of info that the individual has for the reason that mobile software.
In general terms at the conclusion of the monitoring process, the site will show you a great deal of data, in which you can: accessibility chat communications, access sent and obtained images, accessibility recorded communications, view the camera front and back instantly; and locate the device in real time.
This all can be done anonymously, in addition, it will be 100 percent secure because the web platform has a 99 % hack triumph rate.